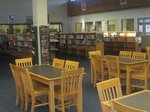 Updated Library Media Center
MIDFIELD HIGH SCHOOL Hours: 7:45 am-3:30 pm
WELCOME
Midfield High School Media Center has a new and improved website. You can search the library's collection, and even place items on reserve. Please come by the library if you have any questions on how to navigate through the website. The library opens at 7:45a.m. and closes at 3:30p.m. The library has three mini computer labs for the purpose of small group projects and private student collaboration. The library recently added a mural of books on the wall for beautification, and it looks lovely; a conference area was also added for teachers and students' private work space and private meeting spot. A shout out to Mr. Frederick (Social Studies teacher) and his summer academy students for a job well done on our wall mural.
Who is in the Library?
Mrs. Payton, Library Media Specialist (M.Ed. Library Media University of West Alabama)
Awesome Student Assistants 2018/19
1st Block First Semester

Blake Battle

Amaya Craig

Precious Thomas

2nd Block

Johnna Robinson

Kitana Scott

Keoshia Stubbs

3rd Block

Aleigha Barnes

Aaron Jones

Ja'Maya Miller

Joshua Hearn

4th Block

Tehra McCurdy

Mircle Johnson
NEWS:
The Media Center has new technology! There are Apple Ipads and Laptops for class checkout. The ActiTable from the makers of the Promethean Smart Boards is an interactive learning tool designed for students and has an LCD touch screen device that allows users to participate and collaborate in activities, applications and instruction-driven educational games. Also come see "Student of the Month" on display and student class projects on display in the Media Center.
POLICIES AND PROCEDURES:
There is an updated Policies and Procedures Handbook for your information. Look under the forms link.
*The library is open from 7:45 a.m. to 3:45 p.m. daily.
*Students may visit the library at any time. However, YOU MUST HAVE A PASS from your current period teacher in order to visit the library.
*The library operates on an open schedule, and Mrs. Payton is available during the school day for assistance and/or instruction in research. Teachers are encouraged to sign up for instructional time using the calendar on her desk.
*No gum, food, or drink is allowed in the library. No cell phone use in the library. keep noise to a minimum please.
*Students may check out books for two weeks. Books may be renewed once. Textbooks are also available in the library for check out, but may be renewed as often as needed.
LINKS
Links are updated as needed. Under the "Llinks" tab students are able to go to academic links that will help them in retreiving information for essay and research writing as well as for projects and presentations. There are also fun links for leisurely reading and down time when assignments are completed.